Below is a re-blog of the very interesting 2021 Internet Map published by TeleGeography on Twitter : https://blog.telegeography.com/2021-global-internet-map-tracks-global-capacity-traffic-and-cloud-infrastructure
In fact shown are the traffic flows of many networks which are peered (interconnected competitor networks) at the Internet Exchanges. Not only Internet but also corporate and private networks, ISP's, Mobile telephony & -data networks and video streams.
The map which can be opened online, for zooming in & out is here: https://global-internet-map-2021.telegeography.com/
Numbers in the circles depict ranking of hubs (IX'es) according to size of traffic in the world: 1. Frankfurt: DE-CX , 2. London: LINX , 3. Amsterdam: AMS-IX, 4. Paris: France-IX.
A more detailed list of IX's can be found on https://en.wikipedia.org/wiki/List_of_Internet_exchange_points_by_size
On the lower side of the (wall-chart) map are shown various characteristics and impressive growth statistics.
Very impessive worldwide digital infrastructure.
The driving forces behind its construction and interconnectivity are not so much the drive to make money but by constructing COMMONS (cooperatives) with the FIVE NETWORK EFFECTS:
— the first four: https://theconnectivist.wordpress.com/2015/03/25/np9-engines-for-the-new-power-the-four-network-effects/ about economies of scale and scope 🙂
— the fifth: https://theconnectivist.wordpress.com/2019/08/26/what-can-we-do-8-the-fifth-network-effect-the-law-of-p2p-cooperation-and-scaling-up/
When you follow the network dynamics of this Internet Infrastructure you will notice that it behaves like a new lifeform on our planet. 🙂 for the Global Brain?
jaap van till, TheConnectivist
==========================================
2021 Global Internet Map Tracks Global Capacity, Traffic, and Cloud Infrastructure
By Jayne MillerFeb 16, 2021Share
There's so much information packed into our 2021 Global Internet Map that you might not know where to start.
You could begin by digging into the 35% growth we saw in international internet capacity—from around 450 Tbps to over 600 Tbps—between 2019 and 2020.
Or you could scope out regional connectivity intel, noting that Europe is the region with the highest regional capacity; it also saw the largest growth from 2019 to 2020.
Other notable findings include:
Global Peak Traffic – Peak international internet traffic increased at a compound annual rate of 30% between 2016 and 2020.
Global Average Traffic – Average international internet traffic increased from around 120 Tbps to 170 Tbps from 2019 to 2020.
COVID-19 Impact – The peak traffic growth rate for 2019 to 2020 was forecasted at 28%, however the observed level for the same period was much higher, at 47%.
"It's been very interesting to track global trends in terms of capacity and traffic over the past year, and learning how operators responded to the pandemic. Our latest data show that global capacity and internet traffic surged in 2020, mostly driven by the widespread remote work and learning, with more people relying on the internet than ever before," said Anahí Rebatta, Senior Analyst at TeleGeography.
Fans of this map will notice the exciting addition of cloud infrastructure data.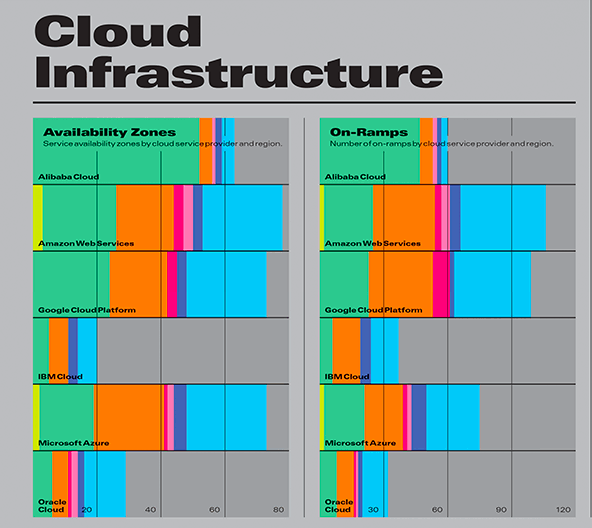 This includes six new cloud service provider maps showing active and planned cloud regions, number of availability zones, and on-ramps.
Per usual, this map also displays key insights into the world's internet exchanges. These include the aggregate number of exchanges in each country and the number deployed by region over the past five years.
Key projections include intraregional internet bandwidth, metro-to-metro area internet bandwidth, metro area internet bandwidth and the top 50 metro areas ranked.
Our colorful 2021 edition is sponsored by the team at Netskope.
=========end of re-blog======================
Rather silly that in 2000, more than twenty years ago, just after the Internet Bubble (hot air shares) burst on Wall Street, the media reported gloomy forcasts about the future of Internet:
The only ones who gave up on Internet where computer illiterates who gambled and lost with shares. And for instance the Board of the Delft University of Technology who stopped my "Internet" professorship then after such messages, much to the chagrin of my large audience of students. These clever boys and girls have been very successful in this field since!