This is heavy stuff.
Sauron and the black magicians of Mordor will not like it that I write about them. Nor will the 1%ers, MBA profiteers, capitalists and power hungry dicktators who are building up their loyal hierarchies of nationalist Neo-Lib alt-righters.
The clairvoyant Simone Weil wrote down a stunning analysis of the upcoming forces of Facsism in 1933 which seems to reappear right now in 2018. In Hungary, Poland, the USA, UK, and Brazil and many other nations. 
They is now called Authoritarians or Populist Politicians, and she derives their power as coming from the Industrial Age societies which oppress and reduce the lives of its workers to cogs in big machines. Managers of big companies extract wealth, health from the workers and from the ecosystems of nature. Until… they have had enough and rebel. Like the "Yellow Vest" middle class people's Revolt in France and the "ExtinctionRebellion" in the UK.
Simone also explained that it is not a controversy between Left and Right. Socialism and Unions are also deeply embedded in the Industrial age mindsets of the population and the present SYSTEM.
I am amazed that fascism is on the rise at the very moment it is becoming clear that Capitalism is breaking down and The Market can be seen not to work any more in ALL parts of society. And we can see in front of us captains of industry not doing better than governments. The ruling classes everywhere have failed to govern well, and blamed that on foreigners, those who are different, and blame the poor and the weak. Everybody but themselves.
It is urgent that many of us start to build a new system, one that works and can be democratic: ruled by the people. I believe I found the core of that based on cooperation, wide diversity, synthesis and synergy.: #Synthecracy. A total opposite of Fascism.
What Simone Weil wrote was described in the Netherlands quality newspaper NRC by author and poet Maarten van der Graaff  https://www.nrc.nl/nieuws/2018/11/15/denken-over-arbeid-en-macht-a2755358     .  Maarten van der Graaff gave me permission to post this newspaper-essay here, see below, and to translate and post it in English.
Simone Weil's most important book was published can be bought at Amazon UK : book URL : https://www.amazon.co.uk/Oppression-Liberty-Routledge-Classics-Simone/dp/0415254078/ref=sr_1_17?s=books&ie=UTF8&qid=1542983622&sr=1-17&keywords=Simone+weil
I think this is important since as Anne Applebaum noted society goes through cycles of fascism-liberty-fascism etc. Let us pray that we not have to go through catastrophic worldwars and crises again and the cycles are shorter and upwards towards freedom and happiness for all of Nature on this planet again.
Let us rewire the planet for Life
Jaap van Till, The Connectivist
==================Essay of Maarten van der Graaf (NL language)========
De filosofe die koos voor een leven als fabrieksarbeider: Simone Weil
Het werk van de Franse Weil laat je voelen wat de onderdrukten voelen. Vijfenzeventig jaar na de dood van de filosofe en mystica is het actueler dan ooit.
Vorig jaar staakten de werknemers van Alstom, een grote Franse treinenbouwer, om zich te verzetten tegen de fusie met Siemens, die in de zomer van dit jaar toch door de aandeelhouders werd goedgekeurd. Meer dan tachtig jaar eerder, op 4 december 1934, trad een van de interessantste denkers van de vorige eeuw in dienst van het bedrijf. Niemand op de fabrieksvloer wist wie Simone Weil was.
Wat zij heeft geschreven over arbeid, bureaucratie en macht is nog altijd relevant. De verhouding tussen de maatschappij en individuele, menselijke lichamen was scheef, vond Weil. Ze dacht voortdurend na over alles wat mensen onderwerpt.
Simone Weil hoefde niet te werken in de fabriek. Ze werd op 3 februari 1909 in Parijs geboren als jongste kind in een rijk, seculier Joods gezin uit de Elzas, dat naar Parijs was verhuisd toen Duitsland de streek annexeerde. Ze was heel begaafd en beheerste klassiek Grieks op haar twaalfde. Op haar tiende noemde ze zichzelf uit verbondenheid met de Russische revolutie bolsjewiek.
Na haar opleiding aan het Lycée Henri IV en de École Normale Supérieure gaf Weil les op school, sloot zich aan bij de arbeidersbeweging en schreef politieke stukken. Later had ze mystieke ervaringen en schreef ze ethische en theologische teksten. Ze werd 34 jaar en overleed in 1943 in Engeland aan tbc.
Bevelen opvolgen
Weil liet een verscheidenheid aan stukken, aantekeningen en fragmenten na, waarvan het meeste postuum is samengevoegd en gepubliceerd. Onlangs verscheen Onderdrukking en vrijheid, een bundeling van Weils politieke en filosofische geschriften. Ook verscheen de vierde druk van Wachten op God, met brieven en teksten die ze schreef aan pater Perrin, haar geestelijk raadsman. Haar werk ademt iets groots en toont een vurige toewijding aan het denken, maar is niet makkelijk te karakteriseren. Weil geeft je altijd net iets anders dan wat je zoekt.
Het werk in de fabriek van Alstom viel Weil zwaar. Ze had moeite met het halen van de productienormen. Aan vriendin Albertine schreef ze dat ze tot haar schrik werkte als een gelaten lastdier, geboren om bevelen op te volgen.
Waarom besloot Weil als ongeschoolde arbeidster te werken? Het denken had haar geen antwoord geboden op de vraag hoe je werk kunt organiseren zonder arbeiders te onderdrukken. Ze vond dat je de onderdrukten niet kon begrijpen als je niet voelde wat zij voelden. In een gesprek dat Simone de Beauvoir, medestudent aan de École Normale Supérieure, beschrijft in haar memoires, verklaarde de tiener Simone Weil al dat niets van belang was dan de revolutie die alle hongerigen van de wereld zou voeden: 'Ik [De Beauvoir, red.] antwoordde, niet minder dwingend, dat het er niet om ging mensen gelukkig te maken, maar wel om hun bestaan zin te geven. Ze bekeek me van boven tot beneden en beet me toe: 'Het is je aan te zien dat je nooit honger hebt gehad.''
Gevangenis
Een jaar voor haar fabriekstijd nam Weil deel aan een mijnwerkersstaking en voerde lange gesprekken met Trotski, die later verzuchtte dat Weil haar geloof in het marxisme had verloren. In Onderdrukking en vrijheid lees je hoe Weil zich schatplichtig wist aan Marx, maar zonder enige achting voor de dogmatiek van het wetenschappelijk socialisme of de communisten – nergens ter wereld bestond een partij die de naam communistisch waardig was. Het Sovjetsysteem kenmerkte ze met het geleende citaat: 'één partij aan de macht en alle andere in de gevangenis.'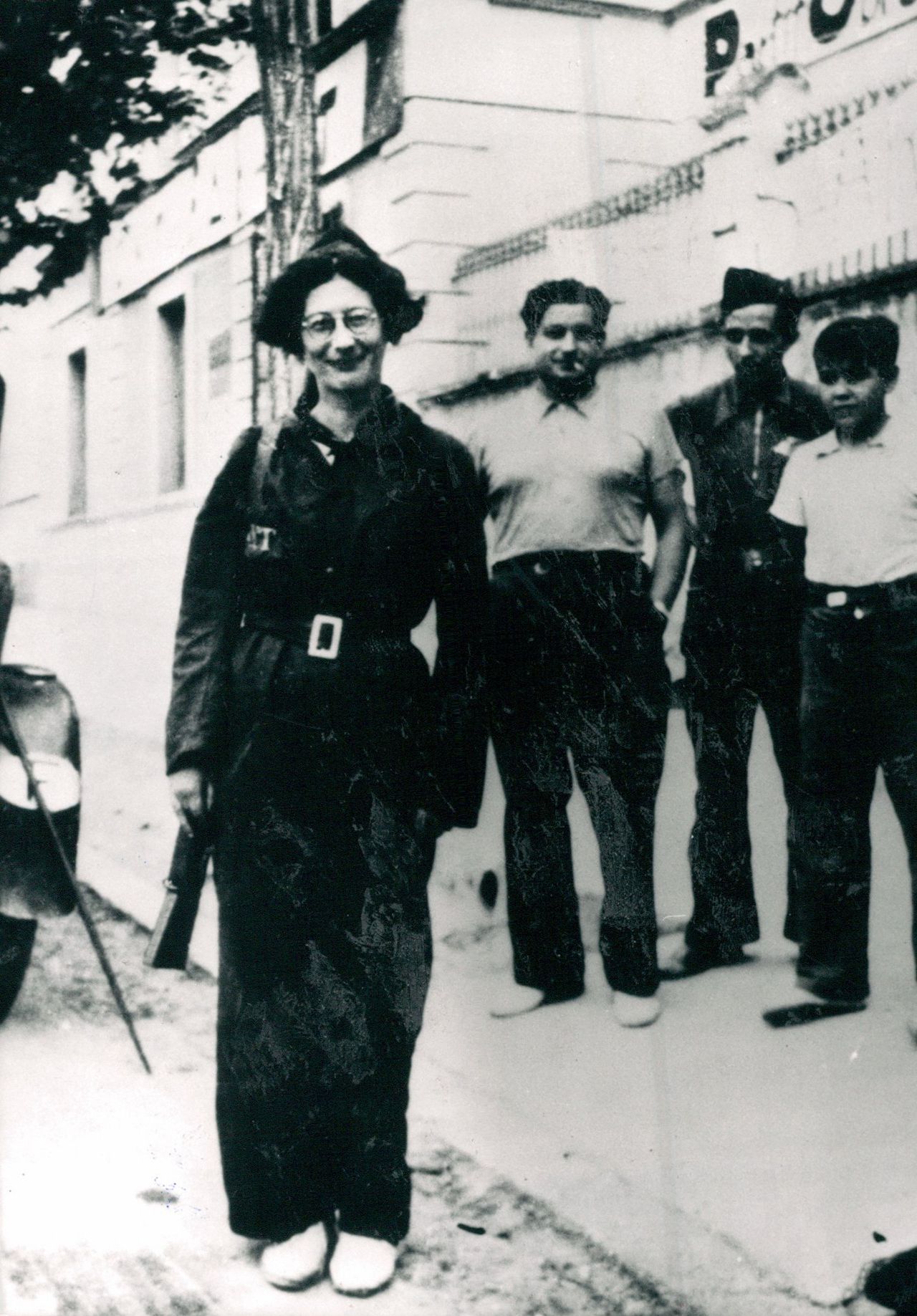 De marxistische analyse schoot te kort. Niet de economie was de sleutel tot het maatschappelijke raadsel, vond Weil, maar de macht. Zolang de machtsstrijd beslist zou worden door het industriële systeem, zouden arbeiders worden uitgebuit.
Het valt op dat ze de gevolgen van machtsuitoefening in kaart bracht met oog voor het emotionele en lichamelijke bestaan van onderdrukten. De heersers waren erop uit om bij hen een gevoel van onmacht in stand te houden. Alles wat hiermee brak, vond Weil subversief.
Arbeiders werden opgeofferd aan de machinerie van bedrijven en daartoe gedwongen door het geweld van de staat, maar deze situatie kon in Weils ogen júist niet door revolutie worden veranderd. Op dit punt brak ze met Marx en haar peers. Hoe zouden arbeiders, ook na een revolutie, iets anders kunnen zijn dan radertjes in de machine en hoe zouden leger, politie en bestuur opeens geen onderdrukkende instanties meer zijn? Ze verwachtte dat het systeem zou voortbestaan tot aan zijn uiterste mogelijkheden.
Haar pessimisme kwam voort uit haar opvattingen over techniek. Door technologische ontwikkelingen was arbeid steeds verder ontmenselijkt. Van die grootindustrie was je niet zomaar af. Met andere woorden: als revolutionairen van de een op de andere dag de fabriek van Alsthom in handen krijgen, zouden ze dan wel weten wat ze ermee moeten doen?
Schandaal
De scheiding tussen hoofd- en handenarbeid had de arbeiders beroofd van de mogelijkheid hun verstand te gebruiken en hen gedegradeerd tot radertjes. Dat was voor Weil schandalig, op economisch, sociaal én spiritueel vlak. Weil was verliefd op het klassieke, contemplatieve leven en stelde zich de vrije arbeider voor als denker, iemand die op een waardige manier op het werk zijn intelligentie kon gebruiken. Arbeiders zouden in haar ogen als individuen in een collectief moeten samenwerken, zonder hun vermogens op te offeren aan een bureaucratisch bestuur.
Een trend in de Franse literatuur: romans over arbeiderskinderen die knokken voor een hogere plek op de sociale ladder. Maar eenmaal daar beland, blijven ze buitenstaanders. Lees ook:'Bij ons was het: bedrog, scheiding, ontslag of kanker'
Weil beschrijft bureaucratisering als de opkomst van een nieuwe groep mensen binnen het kapitalisme: de technici en specialisten. Deze derde laag, naast arbeiders en kapitalisten, was geïnteresseerd in het bewaken van hun privileges en kennismonopolies.
In deze bureaucratische machinerie, 'waarvan sommige onderdelen mensen zijn en waarvan het raderwerk bestaat uit voorschriften, rapporten en statistieken', komen fabriek en samenleving bij elkaar. Rationalisering en specialisering hebben werknemers verantwoordelijk gemaakt voor steeds kleinere onderdelen van een proces dat niemand kan overzien en stapels papierwerk moeten dit proces verantwoorden. Voor 'kenniswerkers' is dit niet anders. Elke dag met je hoofd werken is niet hetzelfde als je verstand gebruiken. Weils mens, die zich nietig en onmachtig voelt tegenover het collectief, is niet verdwenen.
De rationele wereld van papier waarin die mens leeft kent eigen nachtmerries. Arbeiders worden in hun dromen bezocht door monsters die Bank en Financierskapitaal heten, schreef Weil, en de burgerij droomt van 'leiders, agitatoren en demagogen'. Politici denken dat kapitalisten 'bovennatuurlijke wezens' zijn met de sleutel tot de oplossing. Weil: 'In zo'n situatie kan elke leeghoofd als koning beschouwd worden.'
Derde Rijk
Dat klinkt bekend. In het postindustriële kapitalisme geloven politici nog altijd in deze bovennatuurlijke wezens en zijn zich steeds meer gaan gedragen als hun slippendragers, als managers en specialisten. Arbeiders zijn manager van zichzelf geworden, veranderd in de monsters uit hun dromen: ze 'investeren in zichzelf' en in hun relaties, organiseren hun productiviteit en spugen het juiste papierwerk uit.
Twee jaar geleden verscheen op de website van de Los Angeles Review of Books het essay The Supermanagerial Reich van Ajay Singh Chaudhary en Raphaële Chappe. Zij beschrijven hoe in het Derde Rijk veel diensten geprivatiseerd werden en een financiële elite opkwam van supermanagers die monopolies en kartels bestuurden. Ze zien een parallel met het heden: de neoliberale economie kent ook een hoge concentratie van macht en kapitaal in de handen van een kleine groep supermanagers. Dit holt de democratie uit. En dan moet je volgens de auteurs niet gek opkijken als er nieuwe vormen van fascisme aan terrein winnen. Als de belangen van een financiële elite belangrijker zijn dan democratie, leg je de rode loper uit voor extreem-rechts, voor leiders die de dodelijke taal van natie, ras en volk spreken.
Begin jaren dertig schreef ook Weil dat de opkomst van totalitaire regimes niemand hoefde te verbazen. De morele sfeer van de bureaucratische machinerie was verstikkend. Het cynisme van het kapitalisme zou worden vervangen door het fanatisme van een nieuwe staatsreligie, een totalitaire samenleving waarin arbeiders hun ellende als 'vrijwillig aanvaard offer' zagen. Dit vrijwillige offer omschreef Weil als een mengeling van 'mystieke toewijding en onbelemmerde bestialiteit.' Ik denk hierbij aan geweld, maar ook aan de huidige cultus van het werk, waarin werknemers enthousiast en creatief hun offers moeten brengen.
Wachten op God bestaat uit brieven en stukken uit de jaren veertig en bevat prachtige teksten, maar ook passages waarin Weil het Jodendom categorisch in verband brengt met de Christusmoord en geestelijk verval. Dat is haar later terecht zwaar aangerekend.
Spreekt hier een andere Weil? Zoals ze vond dat geen enkele communistische partij die naam waardig was, was het christendom niet katholiek, want niet echt alomvattend. Ze weigerde de doop en schreef aan pater Perrin dat ze het geloof nooit had gezocht. Ze had wel iets anders aan haar hoofd, namelijk de problemen van de wereld.
Verdwenen schoonheid
In die laatste opmerking proef je dat Simone Weil de mystica en theologe niet een totaal andere denker is dan de socialistische Weil. In Wachten op God schrijft ze bijvoorbeeld over aandacht als liefdevolle houding, die zichtbaar maakt wat aan het zicht onttrokken wordt door de willekeur van machtsrelaties. Hier raakt haar latere denken aan haar werk over arbeid en macht.
Die aandacht komt voort uit wachten, uit stilte, een 'passieve activiteit', die ze ook aantreft in de Bhagavad Gita, en bij Lao Tse. Deze houding hoort volgens Weil óók bij werk, althans, zoals werk zou moeten zijn, namelijk een betekenisvol deel van het leven: 'lichamelijke arbeid brengt een bijzonder contact met de schoonheid tot stand, en in de beste ogenblikken een aanraking die nergens inniger is.'
Dit contact met de wereld en haar schoonheid is niet vanzelfsprekend. Wij leven in een droom, schrijft Weil in 'Liefde tot de schone orde der wereld'. Wie wakker wil worden en 'de ware stilte' wil vernemen, moet afstand doen van zijn denkbeeldige centrale plaats in de wereld. Wie zo breekt met zijn 'valse goddelijkheid' en zich niet langer het middelpunt van alles waant, ziet in 'dat alle plaatsen hetzelfde recht bezitten om zo'n middelpunt te zijn.'
Met dit besef kon menselijk handelen voor Weil een vorm van poëzie zijn. Erg wijdverbreid was die poëzie niet. Ze vond dat de witte, westerse wereld dit gevoel voor schoonheid zelfs bijna verloren was en het met wapens, handel en godsdienst ook elders deed verdwijnen. Schoonheid is een doel zonder doelmatigheid, zei Weil met Kant. Iedereen heeft het recht die schoonheid te ervaren. Productie en contemplatie zijn in Weils ideale wereld niet van elkaar gescheiden.
De ideeën van Simone Weil over arbeid, aandacht en het decentreren van de eigen ervaring, zijn een bron van weerstand tegen de mens als middelpunt van een maakbare wereld, waar hij, door onderwerping van mens en dier, tot de laatste snik winst uit wil persen.
===========end of NRC essay by Maarten van der Graaff (NL language=======
====NRC Essay of Maarten van der Graaff translated into the English language=====
The Philosopher who did choose the life of a Factory-Worker: Simone Weil
Nightmares about Capitalism 
by Maarten van der Graaf. November 15, 2018.
The work of Weil, born in France, lets you feel how The Oppressed feel. Seventy-five years after the deathbed of the philosopher and mystic that work is more relevant than ever.
Last year, the employees of Alstom, a major French train manufacturer, stopped fighting the merger with Siemens, which was nevertheless approved by the shareholders in the summer of this year. More than eighty years earlier, on 4 December 1934, one of the most interesting thinkers of the last century joined the company. No one on the factory floor knew who Simone Weil was.
What she has written about labour, bureaucracy and power is still relevant. Weil felt that the relationship between society and individual, human bodies was skewed. She was constantly thinking about everything that oppresses people.
Simone Weil did not have to work in the factory. She was born in Paris on 3 February 1909, the youngest child in a rich, secular Jewish family from The Alsace, which had moved to Paris when Germany annexed the region. She was very gifted and mastered classical Greek at age twelve. At the age of ten she called herself a Bolshevik to show connection with the Russian revolution.
After her training at the Lycée Henri IV and the École Normale Supérieure, Weil taught at school, joined the workers' movement and wrote political documents. Later she had mystical experiences and wrote ethical and theological texts. She was 34 years old and died of tuberculosis in England in 1943.
Production Norms
Weil left behind a variety of pieces, notes and fragments, most of which are posthumously merged and published. Recently appeared Oppression and Freedom, a collection of Weil's political and philosophical writings.
The fourth edition of Waiting for God also appeared, with letters and texts she wrote to Father Perrin, her spiritual counsellor. Her work exudes something great and shows a fervent devotion to thinking, but is not easy to characterize. Weil always gives you something different than what you are looking for.
The work at the Alstom factory was hard for Weil. She had trouble meeting the production standards. She wrote to her friend Albertine that, to her horror, she worked as a resigned beast of burden, born to follow orders.
Why did Weil decide to work as an unskilled worker? Thinking had not provided her with an answer to the question of how to organise work without oppressing workers. She thought you couldn't understand the oppressed if you didn't feel what they felt. In a conversation that Simone de Beauvoir, a fellow student at the École Normale Supérieure, describes in her memoirs, teenager Simone Weil already stated that nothing was important but the revolution that would feed all the hungry people of the world: 'I [De Beauvoir, ed.] answered, no less compellingly, that it was not about making people happy, but about giving meaning to their existence. She looked at me from top to bottom and bit at me: 'You can see that you have never been hungry'.
Prison
A year before her factory time, Weil took part in a miners' strike and had long conversations with Trotsky, who later sighed that Weil had lost her belief in Marxism. In Oppression and Freedom you can read how Weil was indebted to Marx, but without any respect for the dogmatics of scientific socialism or the communists – nowhere in the world was there a party worthy of the name communist. The Soviet system she characterised with the borrowed quotation: 'one party in power and all the others in prison'.
The Marxist analysis fell short. It was not the economy that was the key to the social riddle, Weil thought, but power. As long as the power struggle was decided by the industrial system, workers would be exploited.
It is striking that she mapped the consequences of the exercise of power with an eye for the emotional and physical existence of oppressed people. The rulers were out to maintain a sense of powerlessness in them. Weil found everything that broke away with this: subversive.
Workers were sacrificed to the machinery of companies and forced to do so by the violence of the state, but this situation could not, in Weil's eyes, be changed by revolution. At this point she broke with Marx and her peers. How could workers, even after a revolution, be anything other than cogs in the machine and how would army, police and government suddenly no longer be oppressive bodies? She expected the system to continue to exist to its limits.
Her pessimism arose from her views on technology. As a result of technological developments, labour was increasingly dehumanised. You weren't finished with that 'Big Industry' just like that. In other words: if revolutionaries get their hands on Alsthom's factory overnight, would they know what to do with it?
Scandal
The separation between main and manual labour had deprived the workers of the opportunity to use their minds and degraded them to cogs. That was scandalous for Weil, economically, socially and spiritually. Weil fell in love with classical, contemplative life and imagined the free worker as a thinker, someone who could use his intelligence in a dignified way at work. In her view, workers should work together as individuals in a collective, without sacrificing their assets to a bureaucratic administration.
Bureaucratic Machine
Weil describes bureaucratization as the emergence of a new group of people within capitalism: the technicians and specialists. This third layer, alongside workers and capitalists, was interested in guarding their privileges and knowledge monopolies.
In this bureaucratic machinery, 'some parts of which are human and the wheels of which are made up of regulations, reports and statistics', factory and society come together. Rationalisation and specialisation have made employees responsible for ever smaller parts of a process that nobody can oversee, and piles of paperwork have to justify this process. This is no different for 'knowledge workers'. Working with your head every day is not the same as using your mind. Weils human, who feels insignificant and impotent towards the collective, has not disappeared.
The rational world of paper in which that person lives has its own nightmares. Workers are visited in their dreams by monsters called Bank and Financierskapital, Weil wrote, and the bourgeoisie dreams of 'leaders, agitators and demagogues'. Politicians think capitalists are 'supernatural beings' with the key to the solution. Weil: 'In such a situation every empty head can be considered king.
That sounds familiar. In post-industrial capitalism, politicians still believe in these supernatural beings and have started to behave more and more like their slip carriers, as managers and specialists. Workers have become managers of themselves, transformed into the monsters of their dreams: they 'invest in themselves' and in their relationships, organise their productivity and spit out the right paperwork.
Two years ago the Los Angeles Review of Books website published the essay The Supermanagerial Reich by Ajay Singh Chaudhary and Raphaële Chappe. They describe how in the Third Reich many services were privatized and a financial elite emerged from supermanagers who governed monopolies and cartels. They see a parallel with the present: the neoliberal economy also has a high concentration of power and capital in the hands of a small group of supermanagers. This erodes democracy. And then, according to the authors, you shouldn't be surprised if new forms of fascism gain ground. If the interests of a financial elite are more important than democracy, explain the red carpet to the extreme right, to leaders who speak the deadly language of nation, race and people.
In the early 1930s, Weil also wrote that the rise of totalitarian regimes should not surprise anyone. The moral atmosphere of the bureaucratic machinery was suffocating. The cynicism of capitalism would be replaced by the fanaticism of a new state religion, a totalitarian society in which workers saw their misery as a 'voluntarily accepted sacrifice'. This voluntary sacrifice described Weil as a mixture of "mystical devotion and unimpeded bestiality. I am thinking here of violence, but also of the current cult of work, in which employees must make their sacrifices enthusiastically and creatively.
Contemplation
Waiting for God consists of letters and pieces from the forties and contains beautiful texts, but also passages in which Weil categorically links Judaism to Christ murder and spiritual decay. That was rightly charged heavily to her later on.
Does another Weil speak here? As they found that no Communist party worthy of the name was, Christianity was not Catholic, because it was not really all-encompassing. She refused baptism and wrote to Father Perrin that she had never sought faith. She did have something else in mind, namely the problems of the world.
In the latter remark you can taste that Simone Weil the mystic and theologian is not a completely different thinker than the disruptive Weil. In Waiting for God, for example, she writes about attention as a loving attitude, which makes visible what is hidden from view by the randomness of power relations. This is where her later thinking about her work on labour and power comes to mind.
That attention comes from waiting, from silence, from a 'passive activity', which she also finds in the Bhagavad Gita, and at Lao Tse. According to Weil, this attitude also belongs to work, at least, as work should be, namely a meaningful part of life: 'physical work creates a special contact with beauty, and in the best moments a touch that is nowhere more intimate'.
This contact with the world and its beauty is not self-evident. We live in a dream, Weil writes in 'Love for the beautiful order of the world'. Whoever wants to wake up and hear 'the true silence' must renounce his imaginary central place in the world. Whoever so breaks with his 'false divinity' and no longer thinks himself to be the centre of everything, sees in 'that all places have the same right to be such a centre'.
With this awareness, human action could be a form of poetry for Weil. This poetry was not very widespread. She found that the white, western world had almost lost this sense of beauty and made it disappear elsewhere with weapons, trade and religion. Beauty is a goal without effectiveness, Weil said with Kant. Everyone has the right to experience that beauty. In Weil's ideal world, production and contemplation are not separate.
Simone Weil's ideas about work, attention and the decentration of his own experience are a source of resistance against man as the centre of a manufacturable world, where he, by subjugating man and animal, wants to squeeze out profits to the last sob.
==============end of translation of NRC essay about Weil==================
PS. 75 years after her death this was published to commemorate her: https://www.deutschlandfunkkultur.de/vor-75-jahren-gestorben-simone-weil-philosophin-und.932.de.html?dram:article_id=426292