Update May 29 2016 : Subtelforum Almanac issue 18. See below.
Update March 9  2016 : WEF message on Twitter: includes good video to explain.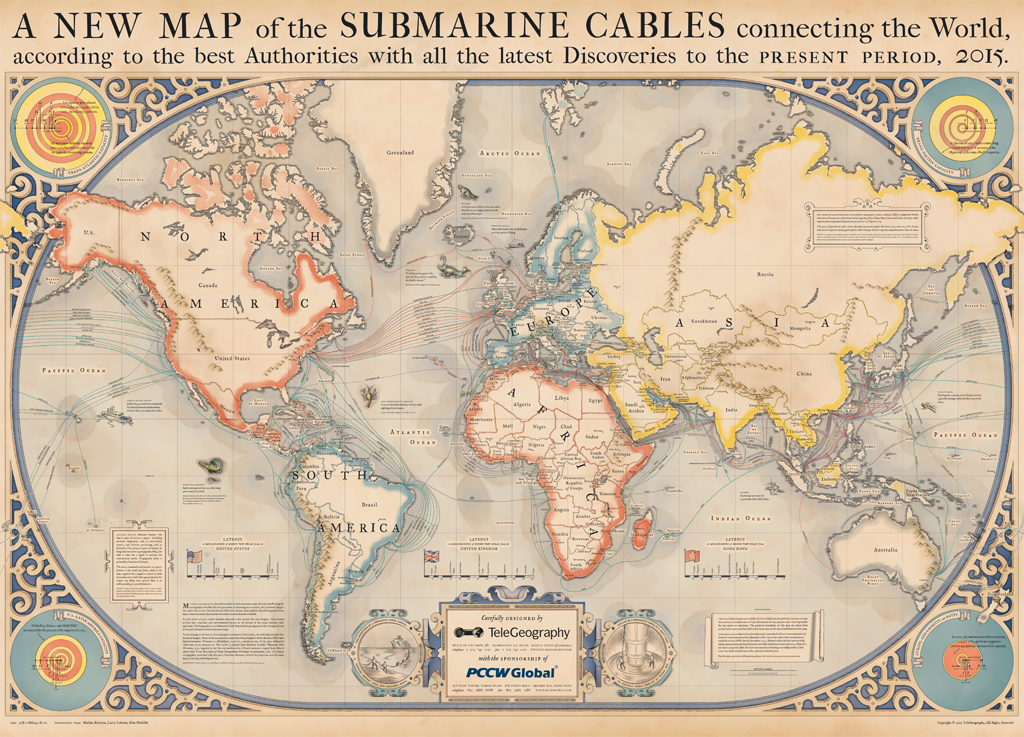 Update: a weeky compenium of news is published by TeleGeography: Cable Compendium: a guide to the week's submarine and terrestrial developments: http://bit.ly/1QQYAii 
Nice overview of the subsea cables [ Image: B.S.Halpern (T.Hengl; D.Groll) / Wikimedia Commons ] * added august 30 2015
* Version July 20, 2014 [PS. 5. added, story about the ships that lay optical fiber cables and maintain those cable on/in the sea bed].  
* Version August 11, 2014 [ PS 6. added]
* Version November 27, 2014 [ PS 7. added: GCHQ cooperation with C&W (part of Vodafone), as dug up by Snowden documents ]
* Version December 1, 2014 [ PS 8. added: More detailed report about the NSA & GCHQ cable tapping "value chain" published by Electrospaces]
* Version December 5, 2014 [ PS 9. added: zoomable chart of cables mentioned in reports about GCHQ tapping ]
* Version March 29, 2015 [PS 10. added: article and book about Undersea Cable Network Management] 
* Version April 2 , 2015 [PS 11. added: Popular introduction book to Internet infrastructure: TUBES.
* Version April 18, 2015 [ PS 12. added: Ciena & TeleGeography submarine cable market update figures.
Submarine Optical Fiber Cables
Found on Twitter: great, up-to-date and inzoomable maps, including landing points (buy land there!!), of the submarine cables (with multiple optical fibers), of the world:
1. http://t.co/GUYaPygOez Greg's Cable map (snapshot above)
2. http://t.co/zZ5RK9zX4W by TeleGeography (snapshot above)
Interesting is that these two are not identical. Why ?? Answer (by Rudolf van der Berg): "
Simple explanation is that some maps contain planned as well as existing fibres. Not every planned cable gets deployed. Not every deployed cable is deployed in full (see ACE, which doesn't go to Cameroon yet) "
3. (with hat tip to Brough Turner) For cable-by-cable details, including commissioning dates, capacity, length, technology, ownership, etc., the best reference is:  http://www.subtelforum.com/Almanac-Issue6.pdf
Update: Subtelforum Almanac – Issue 18 : http://subtelforum.com/Issue18/10C972F85BB8698FA315E53F2C9456DA/Almanac-Issue18.pdf  You'll get a lot more insight into any specific cable by looking at this pdf.  Notice for instance that these cables including amplifiers have a limited lifetime (and IRU's !). New ones are planned and under construction. The organisation "Subtelforum", who publishes these Almanacs, has a free subscription:   http://www.subtelforum.com .
Rudolf van der Berg has added: "Subtelforum Almanac is one of the best sources. Do know that wherever it says capacity, you can ignore those numbers. The design capacity of a transatlantic cable has been boosted from half a Terabit/sec to 4.8 Terabit/s. DWDM doesn't stop and some of the current stuff is just amazing".
4. Very much of the surveying, charting, maintenance and repairing of these fiber optic "connectivity lanes" for the Connection Economy are done by Fugro-Pelagos, Inc which is a subsidiary of Fugro N.V. , http://www.fugro.com/ a civil engineering company in The Netherlands, who specialised  in surface and sub-surface surveying of the Earth.
Update June 2 2013. Sub sea soil surveyor Fugro is doing very well thank you. In stock value (3.8 Billion Euro) it is one of the biggest companies of The Netherlands. The recently retired Chairman of the non-executive board (RvC) Frank Schreve was able to calm down the fuzz that was created by some recent turbulence. Record figures where recently announced and stock price is going up. Much to the chagrin of American and British hedgefunds that invested in short positions on Fugro.
PS. Now I dream of going to Tonga, which has 80 Gbps connection to Internet, which is adequate for me to do everything online from there…:-))
PS 2. (May 31 2014) There is an unconfirmed rumor in the industry that when there is a break in one of these cables this masks a break elsewhere along the line where a special equiped submarine inserts splitters to eavesdrop on the datastream for mass surveillance. So this shows as two breaks at the same time, which puzzled many observers before. The rumor furthermore indicates that datastreams of such taps are transported for analysis and storage elsewhere through fiber optic cables the cross the tapped wire. So you now know where to look on these maps.
PS. 3. (June 6 2014) This article confirms the rumor I mentioned in PS 2. about the undersea tapping and the masking of those activities:   http://www.theregister.co.uk/2014/06/05/how_the_interenet_was_broken/ …
PS. 4. (june 24 2014) A whole stack of NSA & GCHQ slides has been recently revealed at https://firstlook.org/theintercept/article/2014/06/18/nsa-surveillance-secret-cable-partners-revealed-rampart-a/ which includes this one.  It does not show the actual tap points (at least 13 RAMPART-A tap locations, end of 2013) as far as I can see but show the world links as the target:
PS 5.  Great story about the ships that lay and maintain fiber optic cables all over the world at the bottom of the seas: http://builtvisible.com/messages-in-the-deep/
PS 6. Google grows global connectivity infrastructure.  New Submarine Cable Partnership  http://dlvr.it/6ZwK3k   And also about this FASTER project:  https://plus.sandbox.google.com/u/0/+UrsH%C3%B6lzle/posts/haJzDXnp9Z4  
Google pioneered the use of coherent technology on undersea cables – it has led to a massive increase the amount of capacity on a long haul fiber (10x+).  This is now becoming standard practice in new systems.
PS 7. New Snowden docs: GCHQ's ties to telco C&W gave spies global surveillance reach to at least 63 fibre optical subsea cables in the world and 'egress' links to transport the tapped datastreams , see: ars.to/15olzkX
PS 8. More detailed report than PS 7. http://electrospaces.blogspot.nl/2014/11/incenser-or-how-nsa-and-gchq-are.html  Contains this map:
PS 9. The Suddeutsche Zeitung has published a map you can zoom into of the subsea fiber optical cables mentioned in the revealed GCHQ documents: http://lifewinning.com/submarine-cable-taps/
PS 10. Tweet about a book, "The Undersea Network" :
PS 11: Recommended non-tech intro to Internet  infrastructure, included running of undersea cables: "TUBES – Behind the scenes at the Internet" Andrew Blum, Penguin 2012.  Kind of travel book.
PS 12:  Tweet by @Ciena  : "Trans-Pacific Submarine Cable Market and 100 Gb/s Coherent Update" Webinar on April 15 hosted by @TeleGeography and Ciena http://ow.ly/LxR5v   (interesting growth figures !)
Jaap van Till TheConnectivist and LightPathFinder